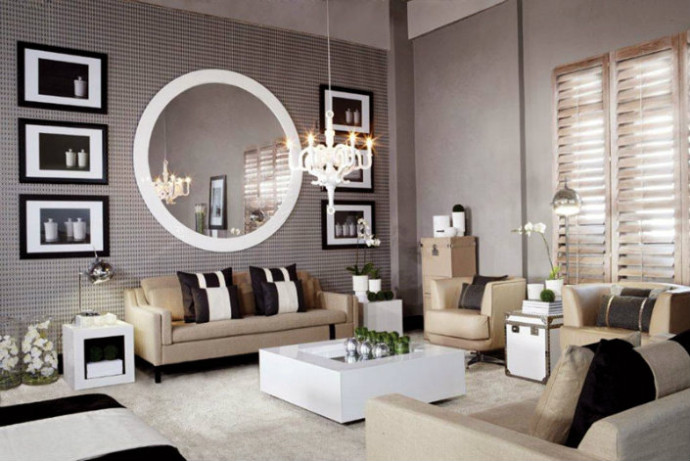 You don't have to worry about your living rooms even if it is too small. We can convert it to a wonderful space within an affordable budget. The Malabary interior designers have several brilliant ideas and solutions for this problem. Have you ever struggled with the arrangement of your furniture, want to have more seats and lights. These brilliant ideas are full of inspiration for the tiny living room spaces to expand their spaces without any demolition.
GIVE REFLECTION WITH MIRRORS
Mirrors are the best ways to add reflection to the spaces; it will make the tiny space to feel more open and airy. When you keep mirrors in the living rooms you can feel it more spacious. They reflect all the lights which are available in the room.
KEEP THE EYE MOVING
This is the best way to increase the square footage in your space. When a person enters the living room, you must be able to make his eyes constantly in motion by giving a visual increase in the living room. This can be done with patterns and colors arranging next to next.
You can also try giving various geometric and linear prints. This can give a sense of structure to a small room by providing an illusion of more length and width to the room. The Malabary interiors have several ideas to create best interior spaces.
MAKE A FEATURE WALL
A feature wall is something that can give a focus to the room with awkward spaces. For this we can use bold wallpapers with different textures, floral prints or anything of your interest to pull the attention of the visitors.
GIVE A SPACE TO PERSONAL ACCENTS AND TREASURES
Keeping your personal accents and your treasures will definitely give you warmth of mind. Along with this it is possible to make your living room to look charming. Here the attention is delighted by the accessories that will draw you in to each nook and corner of the little space.
A BOOK WALL
This idea is suitable for book lovers. This is actually an idea to sort of a dull living space to become your favorite space. Consider an empty wall and converting it into a top to bottom library. It will give plenty of storage spaces. To give a more stylish look pick out rich colors and also give moldings to improve this look.
MAKE YOUR SPACE MORE LIVING
The plants add so much of value to the space where it is kept. You can also make them more creative in your area. It is a smart idea to add hanging greenery without taking any floor space. The brilliant interior design ideas had made the Malabary interiors the best interior designers in Ernakulum.