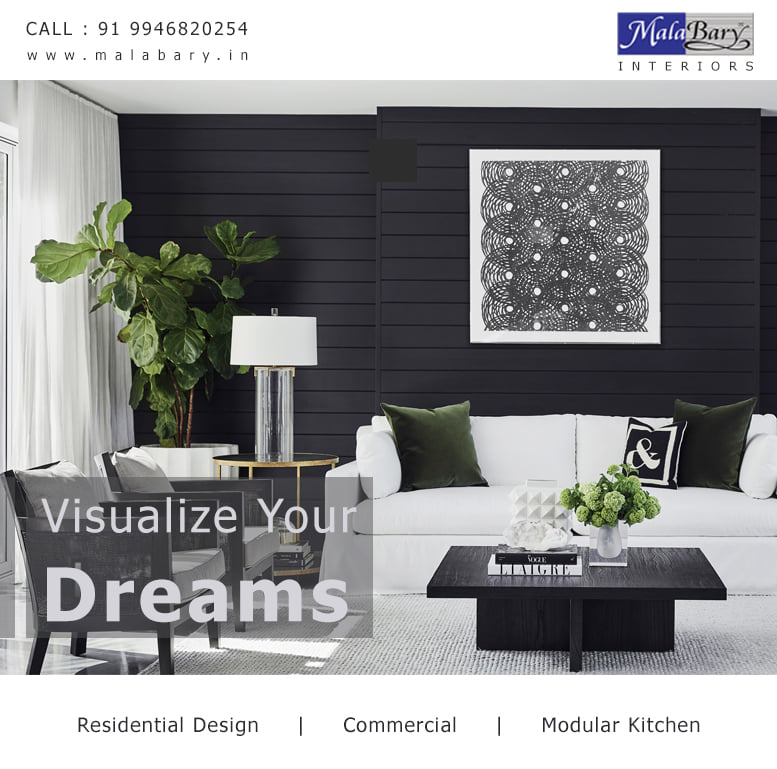 Having home to live is the dream for all individuals. It is common for all people even though their economic status differs. Most of us will have our own imaginations about our dream home. At times, we will find it difficult to bring out these things into real at our affordable prices. The Malabary interiors are giving best interior design solutions for different interiors like house interiors, office interiors or commercial interiors. The Malabary interiors are the popular interior designers in Palakkad giving cost effective solutions for all your interior design needs.
What makes us Different?
The effective and transparent management makes us different from other interior designers. Our interior designing team will carefully understand each project. We do on site visit and take the needs or suggestions of the clients before getting into the design. After this a perfect interior design is made and is executed well by our professional team. During the works only quality materials are used to ensure quality interior designs. Moreover, best quality services will prevent you from wasting time and money on this. All these strategies are used in designing all kinds of interiors like offices, commercial spaces and more.
Bringing cost effective interior design solutions makes Malabary interiors different. You will get best possible interiors of your needs at lowest possible prices. Finally, you will get your style of interiors that will be pocket friendly. The Malabary interiors are the budget friendly interior designers in Malappuram with over 20 years of experience in this field.
Interior Designs that meets Purpose
Interior designing is not just making your interiors beautiful. It is more about making your interiors suitable for your kind of purpose. For example, in case of office interiors, the interiors of the office shall serve the purpose of office. As the office may belong to different kinds of businesses or people, their purpose and convenience also differs. The interior designers must design the office space perfect for that purpose. Similarly, in case of other commercial purposes, the interiors must be suitable to exhibit the products in a best manner. They must be made in a way that, it will attract their kind of clients.
When it comes to the case of residential interior spaces, different rooms are meant for different purposes. We design and manufacture it creatively for efficient performance. Moreover, good quality ensured interior designs are delivered by our team. Giving awesome interior designs had made the Malabary as the best interior designers in Kerala.