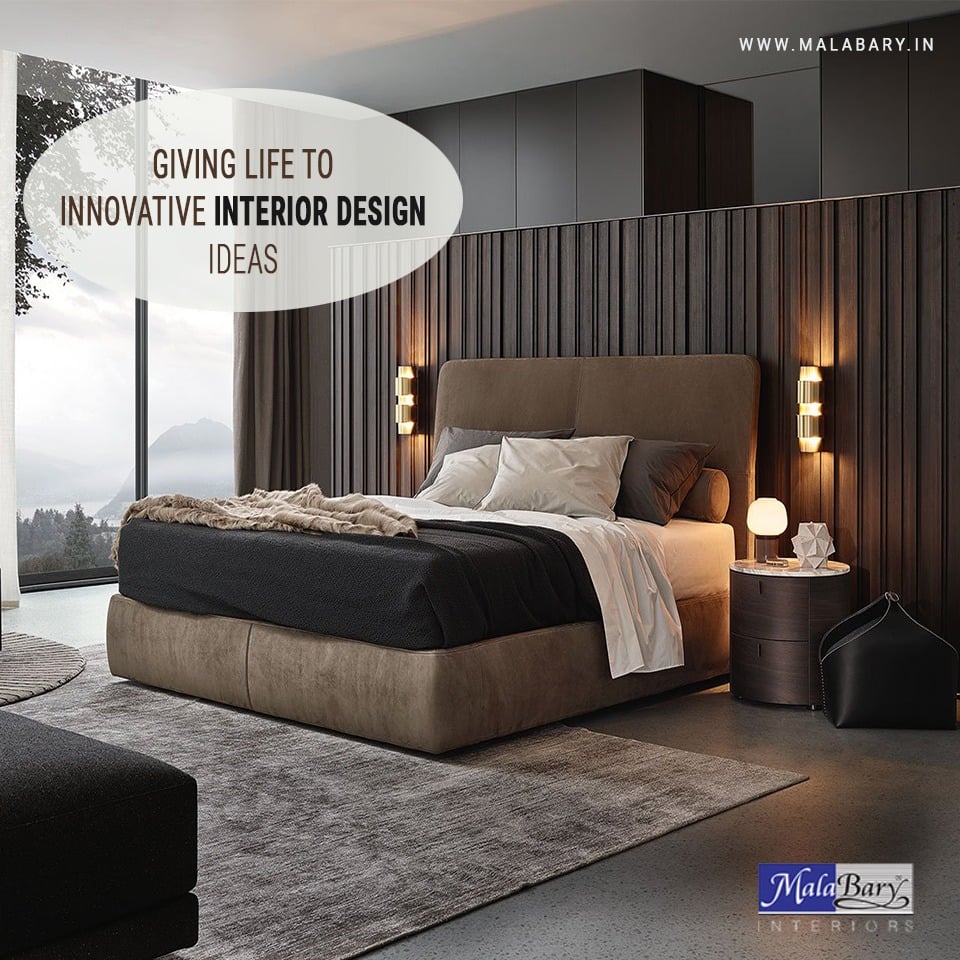 Whenever we think of bedroom, for most of us it is our private space. We need our bedrooms to be cozy and comfortable. This is the major reason why people always give special attention to the bedrooms while constructing houses and doing their interior designs. The rustic bedrooms are actually an ideal space to sleep. These kinds of rooms are laidback, calming and grounded. The rustic style interior designs by Malabary interiors are the ideal direction to make room all about relaxation. Bringing suitable interior designs for the client's needs had made the Malabary interiors to become the best interior designers in Calicut.
If you want to have the aesthetic look of mountains, farm houses or off grid cabins; here are certain interior design ideas that are surely going to help you. Here are also great interior design ideas that you can apply to your existing bedroom for a renovation.
Keeping the Bedroom Simple
It will be a great bedroom interior idea to design your room in such a way that it strikes the balance between rustic style and minimalism. We can design the space by maintaining a sense of calm by adding a headboard and bringing textural intrigue. This is one of the most preferred bedroom interior styles to have a cozy feel with less expense.
The Long Cabin Look
A high ceilinged room feels so luxurious. To have this kind of look, we can design a room with upholstered furniture and eclectic prints. This can definitely give a rustic feel to the bedroom. The Malabary interiors are giving creative and unique interior design ideas and are the best interior designers in Kannur. 
Introducing Modern Accents to the Bedrooms
The minimalist interior designs when it comes to the bedrooms are giving a heartwarming experience. Adding modern accents to the minimalist interior design style is wonderful idea to make you bedrooms to look good. It could be anything like a pendant or a piece of art. Giving nature inspired earth tones and materials will ensure a soothing and laidback environment.
Giving Romantic Touches
Along with getting that rustic feels, at times you may need it have a romantic look too. A gauze canopy with its breezy look will complete the romantic look. The bed settings and pillows must be arranged accordingly. You can also try adding other romantic tricks you love to your bedroom.
Emphasize a View
Actually the rustic designs are all about blending with the nature. So if your bedroom looks out to a gorgeous landscape, it is a good option, embrace it. When you have rustic materials mixed with some elegant decors you will have perfect balance. Bringing balanced interior designs had made the Malabary interiors as the best interior designers in Malappuram.
bedroom interior designers, best bedroom interior designer company, best interior designers in calicut, best interior designers in Kannur, best interior designers in malappuram, interior designers in Calicut, interior designers in kerala