December 2, 2019 | adorable interior designs, Bedroom interior design ideas, Bedroom interiors, Best home interiors, Best interior designs, home interior designs, Interior design ideas, Interior designers, interior designs for houses, Uncategorized | 2 Comments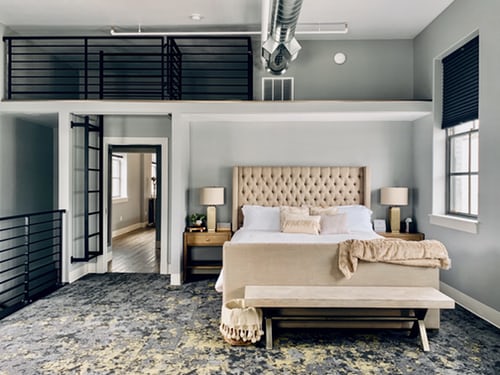 Sometimes our small bedroom interior designs may feel small or congested. It is not possible to increase the size of the bedroom, but it is possible to make it feel as large. These are few ideas from the Malabary interiors by using different layouts, setups and decorating ideas to make your bedroom feel larger. Along with becoming larger, it is essential to look it adorable the way they look. We do no compromise on the great look of your rooms and the interior designs will be always awesome in our works. Thus became one of the best interior designers in Malappuram.  
GIVE A BOLD PAINT COLOR
Pick a bold paint color for your bedroom which matches with the tile or flooring. This can definitely give a stylish contrast to your bedroom. Choosing the paint and painting can be done by you in the way you wanted. Opting for better colors is one of the most used ideas used by people to make their room look larger.
USE MORE OF TEXTURES
This is beautiful idea for your bedrooms. Along with looking larger, it will look adorable. Thus, this is a more often demanded look by the customers. We use different textures which can make the bedroom interior space look larger. You can include textures in the bedrooms through curtains, rugs, bed sheets, wallpaper, paintings and much more. The Malabary interior designers had designed several bedroom interiors by including many textures. This is one of the preferable interior design ideas.
CREATE MIRRIOR MAGIC
The mirrors can do wonders, especially when your room is small. They give an appearance of larger space in the bedroom than it actually is. This is also a decorative idea for the bedrooms. The excellent interior design ideas and best quality interior design works had made the Malabary interior designers, the best interior designing company in Ernalulam.
CREATING A GLAMOROUS GLOW
You can add charm to your bedroom by adding beautiful pendant lights or some other decors. This will help to take the attention to itself, so that the small appearance of the room will be neglected. This will be applicable especially in the first look.
MORE SHELVING
Adding more number of shelves in the room will be definitely a good option. It will give you more storage spaces and thus you can reduce the clutter inside it. Beautiful shelves can also bring beauty to your home. When all the things inside your home are perfectly arranged in shelves it will bring more space inside the bedroom. The Malabary interiors had designed many beautiful interior spaces in Kerala and now one of the best interior designers in Kerala.
Beautiful interior spaces, best bedroom interior designs, best interior design company, best interior designers in Kerala, best living spaces, Interior design ideas, interior designer in kochi, interior designers in Malappuram, interior designers in Nilambur