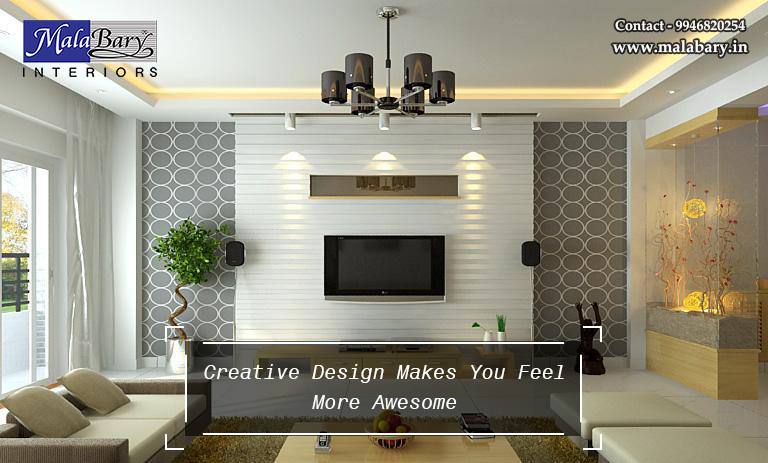 Even if there are a number of rooms in your house, the media room will be the favorite for most of us. Due to this, it's worth making the media to have a fresh feeling look. It must be made more stylish especially when it is both your media room and living room. The Malabary interiors are the great interior designers in Calicut to bring out beautiful media room interiors for your houses. Malabary will always try to bring the suitable media room interiors for your budget and style. Here we can see few exciting interior design ideas from our interior designers.
Seating
The seating is an important part in a media room. It must be comfortable and stylish at a time. It should look cozy and airy as there will be more number of people present over here. Other things like throw blankets, throw pillows, carpets, curtains, etc. will give a good look. If you are having a large family, then consider adding more number of seats to the media room.
Using TV Frame
Keeping a sleek frame on the TV will give a better refined look. This will also help to have a put together look in the room. The TV is actually subtle looking, but we hardly only notice and consider it. The Malabary interior as compared to other interior designers in Kerala has number great design ideas. This will definitely help to transform your home to a new and stylish one.
Creating a Full-Blown Theatre at Home
The media room can be created more like a home theater. We can try painting the walls with dark paints and installing a large flat screen or a projector. Also keep the seats that will make you feel like a classic push back theater seats. The storages can be perfect for keeping books and records. This will make the media room more functional and also beautiful looking.
Making it Modern
People nowadays choose to have modern interior designs both for houses and office interiors. The media room can also be designed perfectly in a modern way by the Malabary interiors. They will be a stylish and cozy space in your house. Moreover, all the interior works are quality ensured both in products and services. There are several ideas to give you a feel good media room at your home. The Malabary interiors are the popular interior designers in Malappuram due to their exciting interior design ideas for houses.