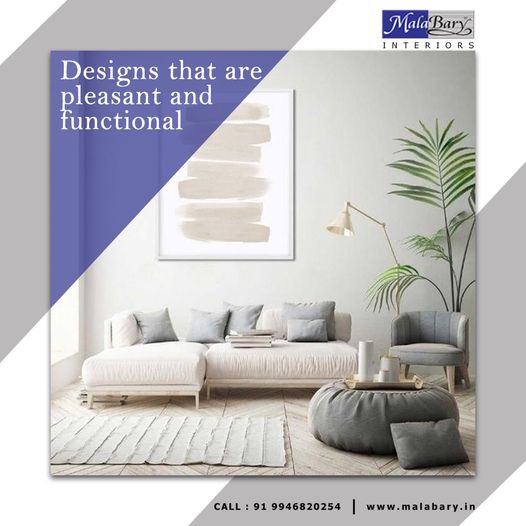 As we know, beautiful furniture and a strategic layout are those important elements of a living room. But the thing that literally sets the mood is the lighting. With our few easy ideas we are helping you to keep your entertaining and hangout space great. We help you to make your living rooms well-lit, stylish and functional. The Malabary interiors are doing all kinds of interior designing services since more than 2 decades. Providing quality work had gained the name of best interior designers in Calicut.
Fun Lamps
When you have a colorful living room, you can keep a bold color lampshade in the space. This will give a highlighted look to the space, even when not lit. You can include things like fun pillows, ottomans, gilt mirror and bright color walls. All these can definitely help you in making your interior space to feel more inviting.
Modern Kind of Chandelier
Keeping chandeliers are always a trendy option for living rooms. Giving a modern chandelier will give a contrast look to your space with more traditional elements. These are also meant to provide some extra task lighting. They will act as decors as well as a source of light.
Recessed Lighting
Through the classic floor light lamps we can add some nice task lighting. That can really lighten the living room. These are well suitable with addition of some classic elements in the space. The Malabary interiors have several DIY stylish ideas to lighten up your living rooms. Moreover, our skilled team is completely efficient to bring you with best interior design solutions. All these makes the Malabary interiors as the best interior designers in Malappuram.
Spotlights
To add extra light into the living rooms, installing sleek black spotlights by the built-ins are a great option. This is suitable in case of modern or minimalist interior spaces. Moreover, the space can be warmed up with earth tones, layers of plush materials, artful accessories and much more.
Drum Pendant
This is not very common. Adding drum pendant is a suitable option for eclectic living room designs. This could bring a plenty of warmth to ensure a cozy and inviting space. Giving off white walls will also give a warm up feel to the room. Along with this drum pendant you can add jute rug, wood finishes and brass accents to add warmth to your living rooms. Adding certain things to your living rooms can make them a wonderful space in your home. Helping you to incorporate your favorite things in interiors had made Malabary interiors popular as the best interior designing company in Kerala.