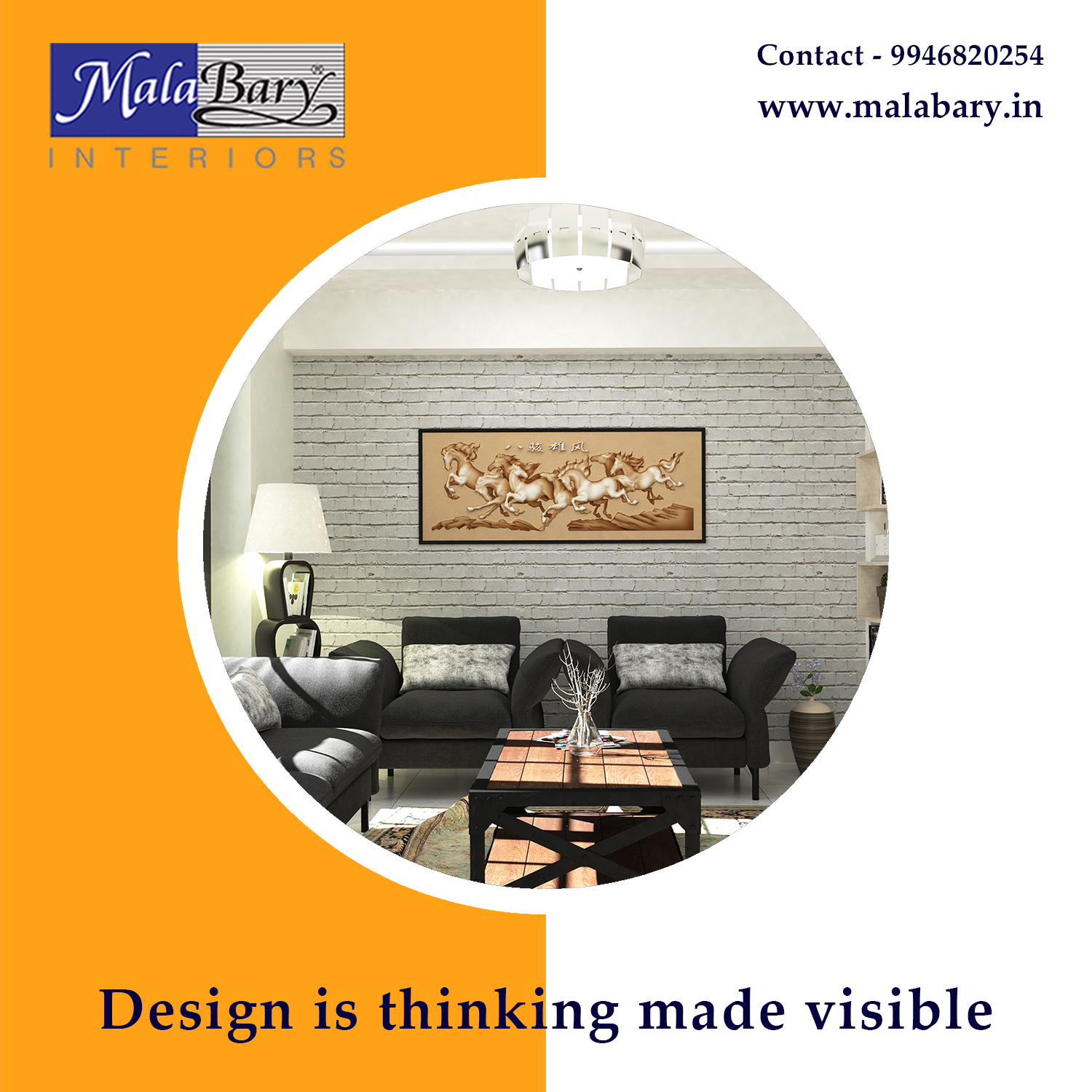 Since the family rooms plays important roles in each and every home, it is very much necessary to make it more adorable and useful. The family rooms are the spaces in your houses where the small occasions or functions like birthdays, family gatherings, meeting guests and many such things will happen. It is a welcoming space in many houses. Here are 10 of the family room ideas from the Malabary interiors.
SET A SCENE
Set a fireplace in the family rooms if you live in a low temperature area. Keep some instruments of your choice against the wall and arrange plenty of seating space in the family room. This will make it feel more inviting. Giving floating shelves in the family rooms can increase the storage spaces.
HAVING FUN WITH COLORS
Isn't it outrageous? But it is not so always. Imagine your family room having gold statement ceiling, tangerine walls, and floral designs on the motifs and giving pops of colors in the room. The Malabary interior designers design your interior spaces according to your taste.
GOING NEUTRAL
Mix neutrals in your family interior spaces to add some character. For this use ultra-plush materials which will be like adding floor cushions. Add a pop of color with paintings and wall art, which suits the scene. You can also add suitable coffee tables and book storage spaces into this.
DOUBLE DUTY- Family room + living room
In some cases, the family rooms are also used as living rooms. In such rooms, choose super comfortable furniture to make it feel cozy while giving a streamlined and formal look. Adding more floral designs to this will make you feel special and fits for celebrations. The Malabary interiors will guide you to have special spaces in your home. Hence the best interior designing company in Ernakulum.
FLOATING FURNITURE
Don't keep all of your furniture against the walls. If you keep spaces behind the furniture, it will look wider than actually it is. When a sofa is kept in the middle of the family room and other decorating items are kept around it, it is a kind of interior space with floating furniture.
GALLERY WALL UPGRADING
Gallery wall decorated with photos and artwork are common. Instead of this keep some quirky things on display. This will make your room feel more unique. The Malabary interior designers have different and unique interior design ideas to make your interiors look awesome.
GAME ZONE
Other than a classic family room you can add some kinds of interesting features to it. If you have more space available in the family room more than a sofa, coffee table, television and other essentials you can add some gaming features. You can add a ping pong table or any kid's games to avoid the dull moments in the family room.
LET THE LIGHT COME INSIDE THE ROOM
Abundance of natural light inside a room can make you feel peaceful and relaxing. Natural light is always a good source of positive energy and good vibes.
KEEPING BOLD SOFA
Adding bold color sofa can be adorable as well as formal in the family rooms or living rooms. It can also give a modern look to your family room.
ARCHIETECTURAL QUIRKS
Design your home with some architectural quirks. You do exposed beams, indoor arches and any stained or colorful glass. This will give an improved décor scheme in the family rooms. The Malabary interiors are the best interior design company in Malappuram to provide the best interior designs.
Beautiful interior spaces, Budget friendly interiors, Home interiors, Interior design ideas, Interior designers, Living room interior designers