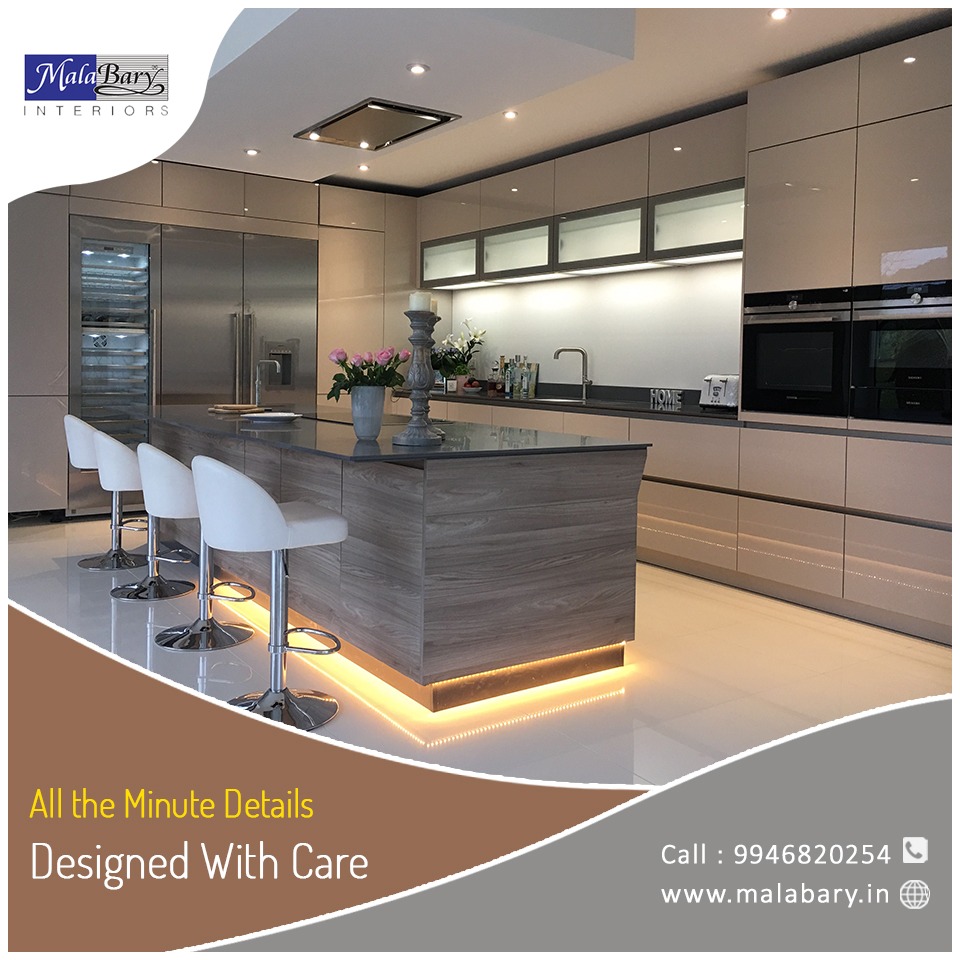 You can get great budget-friendly modular kitchen designs from Malabary interiors. The designs are done without compromising on style and aesthetics of your kitchen. For Indian homes, the traditional kitchen styles with natural wood and stone along with making way for the sleek and stylish modular kitchen is getting in trend. Modular kitchens can be smart and customized when you are with Malabary interiors. The Malabary interiors are the leading interior designers in Calicut. Here are a few budget-friendly modular kitchen design ideas that are good looking and functional.
SIMPLE AND ELEGANT MODULAR KITCHEN
This is a commonly preferred modular kitchen design. These kinds of elegant modular kitchens can be designed with shelves and plain drawers to keep accessories or trays. Using aluminum framed glass shutters can also help to reduce the cost by looking elegant. We can also use plain handles to make them more cost-effective. There are even more such ideas with the Malabary interiors that will make your kitchen affordable and elegant. People choose the Malabary interiors for getting the best modular kitchen designs in Calicut.
SPACE SAVING KITCHEN
For creating a modular kitchen the size doesn't matter. These kinds of designs are done when you have a little space for the kitchen or when you want a small kitchen. The Malabary interiors will make it functional and good looking with a small budget. The designs are usually done by incorporating accessories like oil-pull outs, shelves, drawers, and tall units by which you get more spaces for storing. The space-saving kitchen is suitable for studio apartments and 1 BHK flats.
U-SHAPED KITCHEN DESIGNS
The U-shaped designs are the famous and preferred kitchen interiors in Kerala. The look of such a kitchen can be improved by giving overhead and base cabinets that are wooden laminated. We can also give good finishes to the kitchen cabinets. A focal point can be given in the kitchen in the form of a marble countertop as a breakfast counter. The Malabary interiors will customize your kitchen based on your preferences, requirements, and proposed budgets. We do customized kitchen interiors at reasonable prices that will look expensive.
AN ECLECTIC STYLE KITCHEN INTERIORS
These are especially suitable for those who rarely cook. The kitchen will be usually of a smaller space. To make such designs beautiful some wood racks are given to keep crockeries and utensils. The drawers and cabinets are kept simple to make it less expensive.