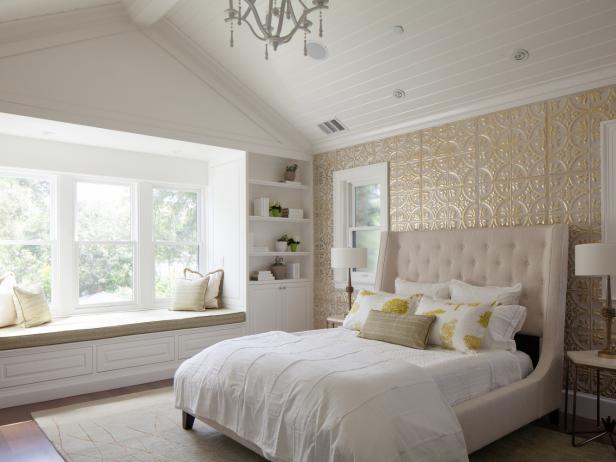 Bedroom is the space where you feel like you want to unwind yourself. The Malabary interior designers have several ideas to make your bedroom a feel good place for you. For us, it does not matter how bold you feel like to have, your space is small or large or you have some design preferences. These interior design ideas for bedrooms from the Malabary interiors are surely going to inspire you. Here we discuss about different types of interior design ideas as people differ in their tastes.
A TEXTURE- RICH INTERIOR SPACE
Almost always bedrooms should feel peaceful. Adding textures like gorgeous stone walls will result in bringing an earthy feel. Added to this you can have a sky blue paint inside or any calming paint color. And cozy throw blankets can do well with this.
GIVING ATTENTION TO SCALE
This is an excellent idea that you can apply for your bedrooms. You have to be very careful while choosing each item for your interiors. This is because it must fit the architectural quirks of that particular interior space. The Malabary interior designers always design your interior spaces as your personality demands. This is because, you must get a feel of the place that it is your own. This made the Malabary interiors the best interior designers in Kochi.
HAVING FUN WITH WALLPAPER
This is actually a well applied option on the interiors especially in the bedroom interiors. There are different variants of wallpapers both in colors and textures. You can choose fun wallpaper or some peaceful one or anything of your taste. But then keep all other interior decors and furniture suitable to it. This is suggested to get that complete look as you wanted.
BOLD LIGHTINGS IN THE BEDROOM
Most of don't like to have a bold light in the bedroom. But this concept is different. Here you must balance it with the impact of muted cushions and throws and also with the headboards. And this low profile will definitely allow you to have a sizable painting or artwork above the bed space.
CREATING A COCOON
Because of the unique architectural lines there is a kind of feel to attics. Create a frame or a sloped ceiling to give that dreamy vibe by adding romantic materials and color lights of your choice. Decorate it with loose linen and a kind of vintage rug to add a pop of color to this.
MAKE IT CREATIVE
If you have got only a little space, then you make it creative. In such cases always prefer to get multipurpose items into such rooms. You can make it crafty within your budgets. The Malabary interiors are the best interior designing company who do the interior designs at budget friendly prices.
GIVING THEMES
You can do the bedroom interiors by sticking to a theme. We make you to choose the themes according the personality and preferences of the person. You can also choose different cartoon themes or other playful themes for the kid's room interiors.