July 31, 2021 | adorable interior designs, best friendly interior designers, best modular kitchen interiors, budget friendly interiors, home interior designs, Interior design ideas, interior designs for houses, kitchen interior design, kitchen interior designers, kitchen interior ideas, modular kitchen, modular kitchen interior designers | No Comments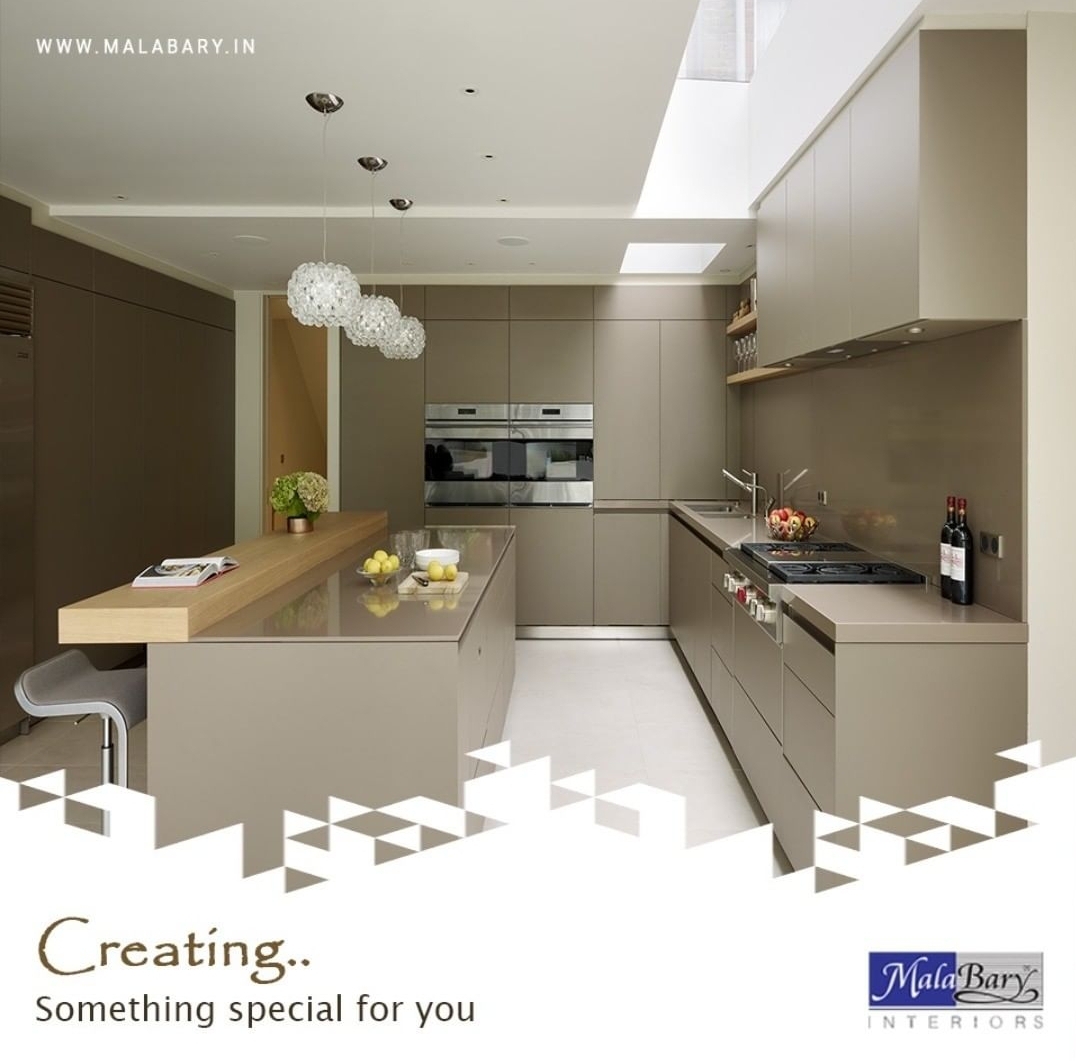 Cabinets take up a lot of space in our kitchen. The cabinets in the kitchen have the power to make the space to look stylish and modern. But it can also sour the room's style if it is outdated or is worn. If you feel like renovating or remodeling your kitchen, here are few exciting ideas from the Malabary interiors which you could follow. The Malabary interiors have been the best modular kitchen interior designers in Kerala having a number of clients across Kerala.
With changing trends in kitchen appliances and wide preferences for modular kitchens, there is a variety of kitchen designs. The introduction of modular kitchens had made the kitchens friendlier to work in and dine in. Along with this making it to look good with great color themes had also become important. The colors and styles of the kitchen cabinets are an important factor in the case of kitchen interior designs. The Malabary interiors are a popular name in modular kitchen interior designing.
Using Sustainable Materials
Using of sustainable materials is a great idea in the modern world. The eco-friendly movements have now entered into the kitchens. There are a variety of cabinet designs that can be done with up-cycled and sustainable materials. You can also find people using materials like eco bamboos and other repurposed materials. The Malabary interiors also follow the trends of sustainable kitchen for bringing eco-friendly homes which can save our planet.
Dramatic Pops of Colors in Kitchen
There were monochromatic and all-white kitchens previously on a trend. This tide is actually about to turn. There will be more dramatic pops of colors in the future. Moreover, there are people preferring to have pops of colors for their different interior spaces. Kitchen cabinets designed with suitable colors that matches to the other parts of kitchen can make the space to look good. The Malabary interiors have been the best interior designing company in Kannur to develop good quality modular kitchen interiors.
Minimalist Handles
When it comes to the hardware on our cabinets, less is more. The handles are frequently hidden or unobtrusive. This will allow the natural wood or finish on the cabinets to take center stage in its look. Minimalist handles are a major trend and here we see more organic and no hardware. People also choose to have custom forged handles which is trendy now. Here brass is the metal of choice. No handle look is on craze for the kitchen cabinets.
Glass Cabinetry
Glass doors like in 90's are coming back to style. It is a part trend that is inclined towards simplicity and organization. This is more suitable for people who are more likely to expose their intentional collections. There are a number of client's who are willing to do glass-front upper cabinets, which makes them easy to clean. This is especially suitable for those people having less stuff in their kitchen. The Malabary interiors are the best interior designers in Calicut to do customized interior designs for kitchen.