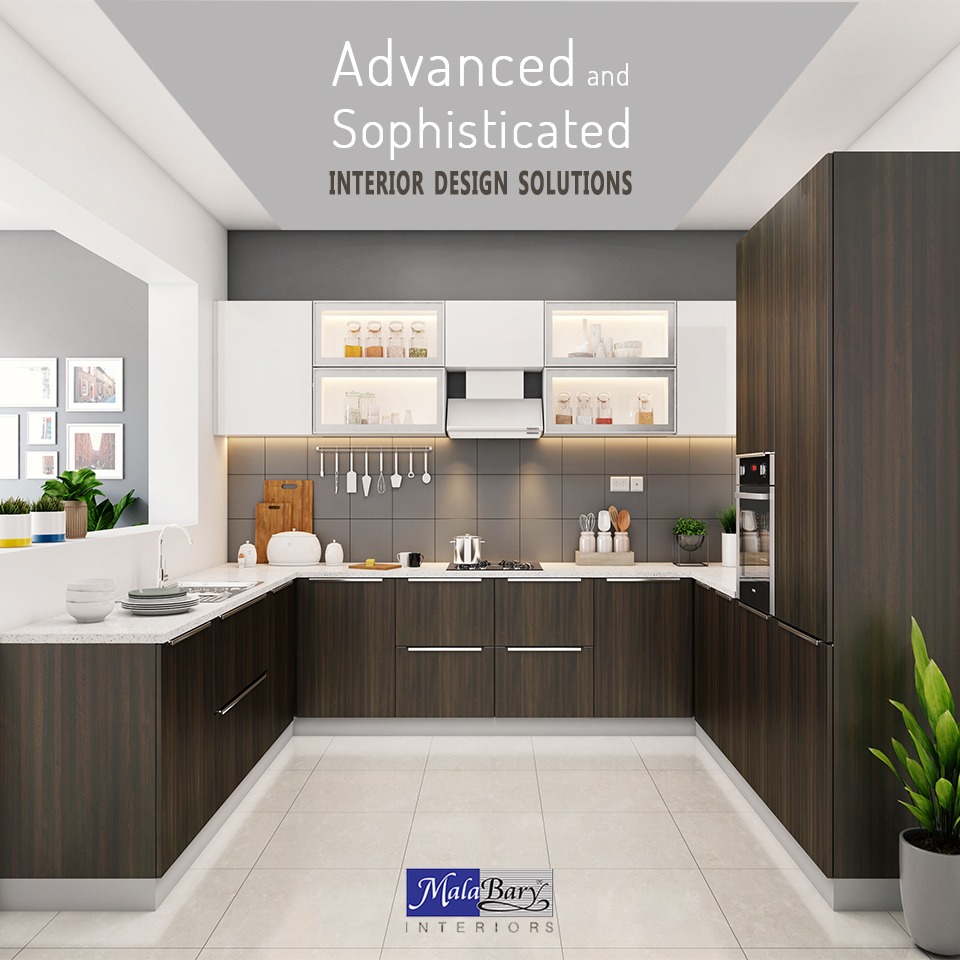 The sleek and contemporary look of aluminium is the reason behind this trend. The aluminium kitchens is a fast emerging trend and are a most preferable one in the world of modular kitchen. This is a suitable idea for people who are looking for remodeling their kitchen and also for those who are setting for first time. These aluminium kitchens have much more advantages than just looking adorable. The functional benefits of aluminium had actually led to its popularity for kitchen. The Malabary interiors are the leading interior designers in Calicut to give great modular kitchen interiors.
Sometimes, we may have only less space allotted for a kitchen in our house. In this area it must include the cooking area, utensil storage spaces and pantry. In such cases all these must co-exist. Especially in these kinds of areas the kitchen cabinets are very much important to provide an organized kitchen experience. Thus the storage cabinets are a major part of modular kitchen. Actually here comes the role of the adorable aluminium cabinets.
Easy to Clean Cabinets
On comparing to other materials, the aluminum cabinets are easy to clean. This is a major reason for the preference of aluminium for cabinets. You might have seen kitchen that are so much metallic. This is because metals are mostly fuss-free and hence a best material for a professional kitchen. The aluminium is non-porous and there will not be any absorption in case of spills. So a wipe with damp cloth can clean the surface. The Malabary interiors are the best modular kitchen designers in Malappuram with great ideas. The usage of high quality appliances and hardware are making the works more standard.
You Will Not Need a Deep Cleaning with Aluminium Cabinets
The kitchen cabinets will be the place that must be cleaned often. This is not just for hygiene but also due to the proximity of the cooking area that will be spoiled easily. The wooden cabinets will lose its look and will be discolored after long term uses. The wooden cabinets will also require deep cleaning to remove the greasy materials and other dirt. In case of aluminium cabinets or any other metal cabinets this hectic cleaning is not required. Thus it can be very helpful for you in case of cleaning and it will itself look good in your kitchen. The Malabary interior designers in Perinthalmanna are using best quality materials for kitchen interiors.