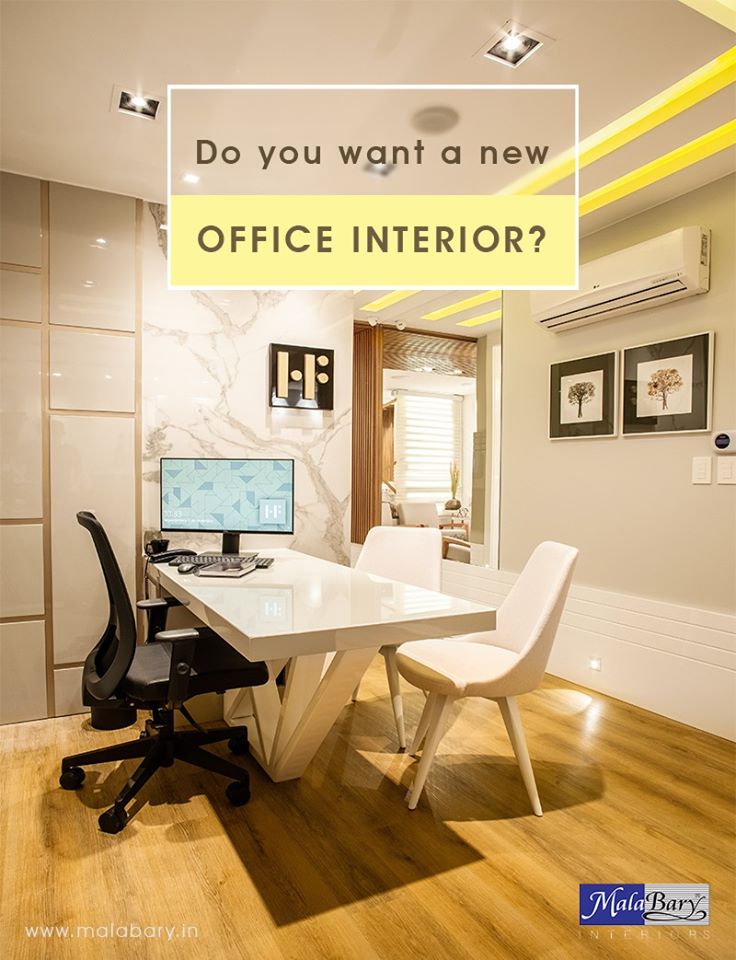 For most of us, the success of our business will be the priority. Thus we greatly consider the office interiors. Similarly, we need our offices to look and feel welcoming along with having a good atmosphere. The layout of the offices are much important than you think. The Malabary interiors will design considering all the interior design aspects for your offices. The Malabary interiors are leading office interior designers in Calicut.
Doing interiors for your offices doesn't have to break the bank. It is possible to do decoration and arrangement of your offices on a budget professionally by the Malabary interiors. There are many wonderful ideas with Malabary to make your office interiors to look awesome. Few such ideas that can be usually applied are discussed below.
Giving Powerful Pigments
As we always say colors play a big role both for our interiors and in our mind. It is greatly dependent in setting up the mood of your room. If your office feels gloomy, the best way to brighten up is to add pops of color. The shade can be selected based on your business and company. The companies like graphic design companies can have more exciting tones of colors. Similarly in case of corporate settings more neutral tones can be chosen. Having a unique and efficient office interior is a part that will reflect your branding. The Malabary interiors while designing office spaces will consider suitable color combination for your firm. All these are making the Malabary a best office interior designer in Malappuram.
Consider the Reception Desk
For some offices the reception area is a necessary part, especially when you have clients coming in. This will give a good first impression to your offices while the client is entering. Having a reception desk will be very helpful when you have more number of clients to visit. This can be done without spending much by choosing attractive and suitable colors of furniture to this area. The Malabary interiors will make a helpful solution for your helping reception desk.
Clutter Prevention
The clutter prevention methods can be made beautiful when you have good storage spaces. The most important thing that we can do is the clutter prevention; it can be house interior or office interior. The office interiors may have a number of papers and there are more chances to have clutters. This is actually a DIY that we can do, but its spaces must be created well with interior designing. The Malabary interiors will consider keeping storage spaces that will be both looking beautiful and efficient for storage functions. This will be definitely helping you to keep your offices clutter free. These kinds of office interior designs are best done by the Malabary interiors and thus a leading interior designing company in Kozhikode.