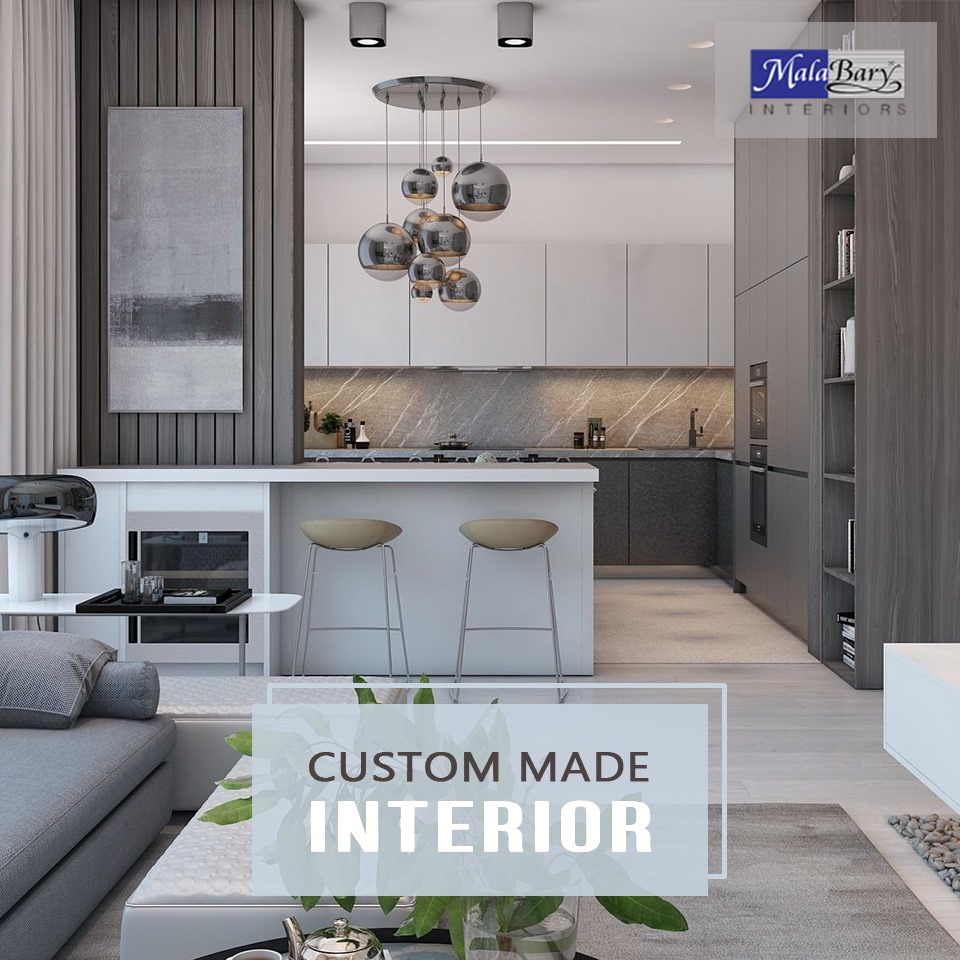 Here are few easy and transformative ideas that can make your interior spaces feel cozier. The interior designers of Malabary consider that it is important to consider the preferences of the customers. Hence, we are trying to give that kind of vibe in the designs. Most of us will try to have a cozy feel in the home and it is not the same in the case of offices. Thus for houses and offices, the designs must be in different ranges. The Malabary interiors are serving excellently in this field for 2 decades thus became a leading interior designer in Calicut. Some of the ideas can be like:
STYLE YOUR FLOATING SHELVES IN THE KITCHEN
Floating shelves are a source of display décor in the interiors. What we keep on them is also of more importance. Changing the exposed items according to the season or needs will also make you feel good at home. The look of these shelves can be greatly enhanced by the wall tiles. The Malabary interiors are bringing different ideas in kitchen interior designs in Kerala.
TEND YOUR BEDSPACE
This is a different and beautiful design. With this idea, you can make your private space more private and feeling cozy. The bedrooms will feel more relaxed and peaceful when you choose these kinds of designs. For creating cozy interiors, you must pick the designs and objects that give more comfort and joy.
INCORPORATION OF NATURAL MATERIALS
We can beautifully incorporate natural elements into our spaces. For example, while designing a dining room we can add a wooden dining table or like some wood accents on a bench or chair. Similarly, natural materials can be shown in wall art and decors. At times incorporation of indoor plants will also be helpful. These will altogether give a cool and calm feel in the home.
LIGHT MORE LAMPS
Giving brighter lights to the favorite spaces is one good idea. Hanging of adorable lights will be both light-giving and also acts as a décor. When you have a library space, keeping a corner lamp will create a cozy feel in your space. The Malabary interiors will always consider such smaller things while designing because it may make a huge impact on interior design. Due to such fine works, Malabary has become the leading interior designer in Malappuram.
SPICE US YOUR HOME OFFICE
Most of us will have a home office especially for supporting our work from the home. It must be a place that must give maximum productivity out of you. We can add some stylish lighting, artworks, adorable vases, and more. There are even more ideas with Malabary interiors to make you feel cozy.