April 23, 2020 | adorable interior designs, Bedroom interior design ideas, Bedroom interiors, Best home interiors, Best interior designs, Best office interiors, home interior designs, interior design company, Interior design ideas, interior designer, Interior designers, interior designs for houses, Kid's room interiors, kitchen interior design, Living room interior designs, modular kitchen, office interior design ideas | No Comments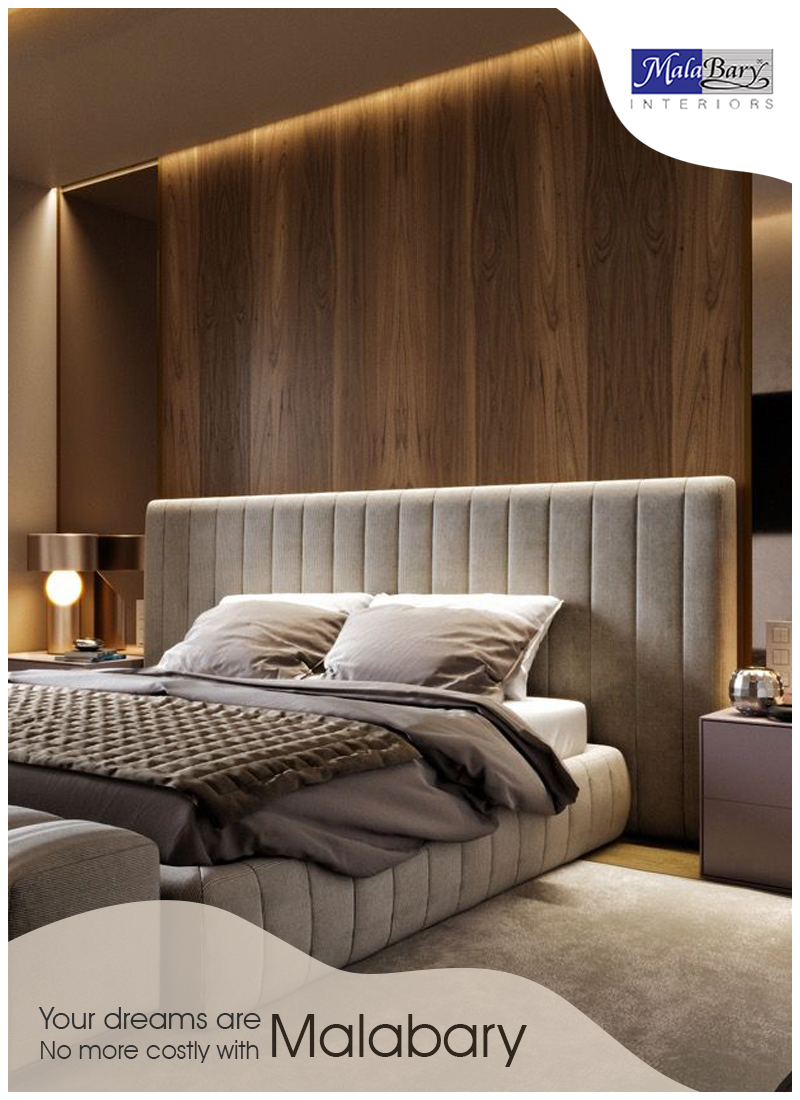 Since the bedroom is the most important part of your house, it needs to look apart. Here are some styling and complete designing ideas for your bedrooms. The Malabar interiors had always proved their skill in interior design. Over the years, the Malabary interiors had become leading home interior designers in Kannur. Read on to get tips and ideas regarding interior design and learn how to bring personal style into your bedrooms.
TRUE TO YOUR PERSONAL STYLE
While designing your interior spaces, it is very important to bring the personal style to it. It is one of the real rules in bedroom interior designing. So don't hesitate to do it in your way. It may be like adding fun prints and bold colors. Just do it beautifully in your bedroom, it works in a good looking manner. With the help of the Malabary interiors, you can get customized interior design ideas for your bedrooms. The Malabary interiors had become the best interior designer in Perinthalmanna due to the excellent ability in giving customized interior designs.
HAVING A STYLISH HEADBOARD
We know having a wide upholstered headboard can bring more fabric into the bedroom. You can also take it as an opportunity to add colors to it by taking up more space. The Malabary interiors are the leading interior designers who can give stylish headboards to your bedrooms.
OPT FOR MINIMALISM IN BEDROOM INTERIORS
It is a great idea to opt for minimalism in the bedrooms. This can give a good look at some exposed parts. With this, you can create an effortlessly sophisticated bedroom. We create exciting minimalist interior designs for your rooms. All the interior designs are done with good quality and standard products and are given at affordable prices. The Malabary interiors are the budget-friendly interior designers in Malappuram.
WALLPAPERING YOUR BEDROOM
Adding wallpaper is actually an exciting idea for your bedroom. This can help you to add different patterns and colors to your room. Wallpapers fixed and having vintage pieces on your room will look amazing. There are several ideas that can be incorporated into the bedrooms with the wallpapers.
THINK BIG WITH ART
You could also try adding great artwork in the room. It can be a painting or some other artwork. Add a sizeable artwork above the bed, it can look amazing. It will be a point of attraction in the room. This is the most preferred idea that are used in the bedrooms.
bathroom interior, Beautiful interior spaces, best bedroom interior designs, best interior design company, best interior designers in Kerala, best kitchen interiors, best living spaces, best office interiors, Budget friendly interiors, creating beautiful spaces, family room interior, home interior, Home interiors, Interior design ideas, interior design tips, interior designer in kochi, Interior designers, interior designers in kochi, interior designers in Malappuram, interior designers in Manjeri, interior designers in Nilambur, interior designers Malappuram, interior designers perinthalmanna, kitchen interior, Living room interior designers, malabary interiors, modern interior designs, office interior design, office interior designing company, stylish interior designs, unique interior designs