February 19, 2020 | adorable interior designs, Bedroom interior design ideas, Bedroom interiors, Best home interiors, Best interior designs, Best office interiors, home interior designs, interior design company, Interior design ideas, interior designer, Interior designers, interior designs for houses, Kid's room interiors, Living room interior designs, office interior design ideas | No Comments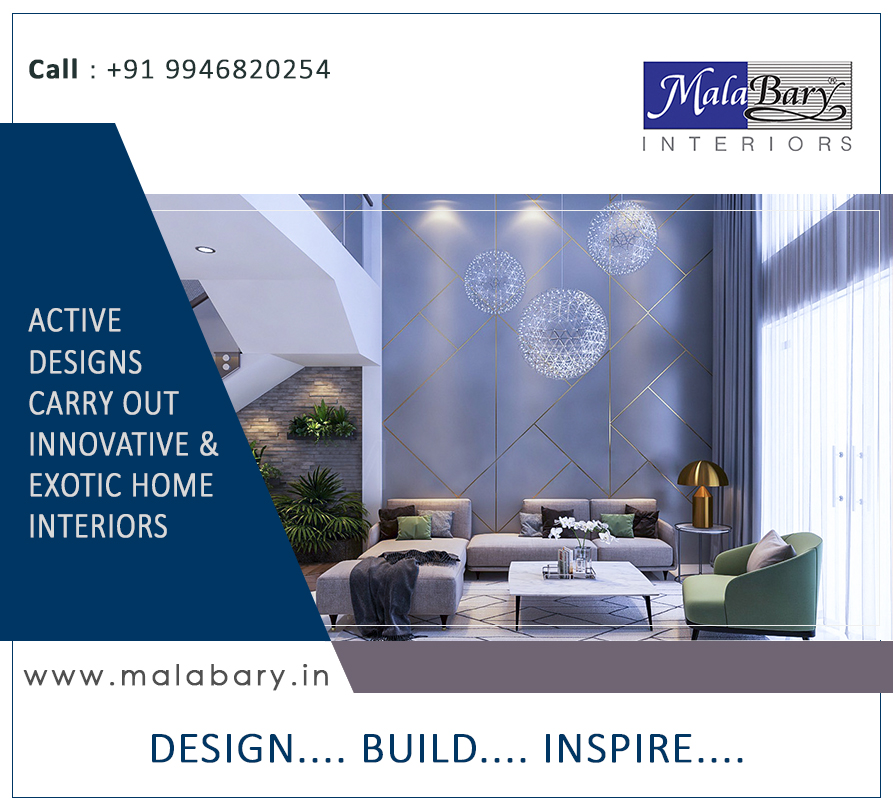 There are increased chances that the world outside you is making you get down. Actually, your home is the only place where you can be yourself. That is the reason why we call it our 'home'. This is the main reason behind creating a world that we love to live in. The Malabary interiors will truly help you to make your place as in your wish. Clients of the Malabary interiors are satisfied with the customized designs from the interior designers of Malabary. Thus we gained the name of the best interior designer in Malappuram. Here we can see a few great ideas for living room interiors.
BRINGING BACK THE OLD ROMANTIC LOOK
It has a beautiful and peaceful romantic look. For creating such a look you don't have to be in such a relationship. Creating a place of love and romance will give you peace of mind. It could be inspirational and have a spiritual reflection. The Malabary interiors were creating many such romantic spaces. These kinds of interior designs are not only meant for bedrooms but you can incorporate such suitable designs anywhere in the house.
MAKE YOUR LIVING ROOM A PEACEFUL PLACE
There are many ideas with the Malabary interiors to make your living room a wonderful place. If you are a person who loves mixing with people or having a company, we create you suitable home environment. We help you to lift your spirits by creating interior designs in such a way that it celebrates love, acceptance, and people. This is best done by the Malabary interiors, which is the best interior designer in Perinthalmanna.
LET YOUR PERSONALITY SHINE
As each person is different, so are their personalities. You make the best part of your personality shine through the interior designs. Through the interior designs, you can expose the personality which you own. The Malabary interiors are good at creating customized interior designs for home interiors. Creating brave ideas is the peculiar feature of the well experienced Malabary interior designers. Thus the Malabary had become one of the best home interior designers in Calicut.
BRING THE PARTY MODE
You can also create your living room in such a way that it is ready to party. This idea can also be made by simply giving some renovation to the existing interiors. Even the living room decors can make it look partying. Keeping suitable art or decors can transform your living room greatly.
THE ISLAMIC ART PRINTS
We were using different kinds of arts in our living rooms for many years. If you would like to have different prints like Islamic art or any other traditional arts, it will be awesome. It will definitely look beautiful with modern furnishing and will give a luxurious feel to it.
bathroom interior design ideas, Beautiful interior spaces, best bedroom interior designs, best interior design company, best interior designers in Kerala, best kitchen interiors, best living spaces, best office interiors, Budget friendly interiors, family room interior, home interior, Home interiors, Interior design ideas, interior design tips, interior designer in kochi, Interior designers, interior designers in kochi, interior designers in Malappuram, interior designers in Manjeri, interior designers in Nilambur, interior designers Malappuram, interior designers perinthalmanna, kitchen interior, Living room interior designers, modern interior designs, office interior design, office interior designing company, unique interior designs