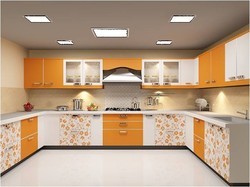 As the time passes our kitchen may look old and we may feel it is less functional. In such cases we will always go for kitchen renovation. Most people think renovation is a difficult one. The Malabary interior designers made the renovation of your kitchen easier. Kitchen renovation is not an expensive or time consuming process when it comes to the Malabary interior designers. The kitchen interior designs from the Malabary are the best among modular kitchens in Kerala. The brilliance and elegance in the work had gained a lot of satisfied customers to the Malabary interiors.
Kitchen in your home will be the place where you cook food. This is the place where you store the food items and other related things. The cooking utensils and other kitchen appliances have to be present and placed conveniently in the kitchen. Thus it is very important to take care of your kitchen. The kitchen interiors must be designed under professional interior designer to make it as you want.
A cleaner and transitional type of modular kitchen is made possible for our clients. What you want in your kitchen is surely considered and we bring out the best of it. The true passion and dedication of the Malabary interior designers made it to be one of the best interior designers in Malappuram. Here we can see few brilliant ideas which can transform your kitchen to a better and next level.
CUSTOM DRAWERS
Usually, there will be drawers in the kitchen but they may not be for specific uses. When the kitchen drawers are meant to use for specific purposes, it will be more clutter free and looking good. You can arrange your cooking utensils in a pull-out caddy particularly made for it. Similarly, these kinds of drawers are made in the kitchen for different purposes.
BUILT-IN PANTRY
The built-in pantries are best options in the kitchens to make it feel more spacious. Keeping pantries which are not a built in kind of one will take up more space in the kitchen and it will not look spacious.
Adding built-in pantries in the kitchen will give you more free space to work. You will feel your kitchen is more spacious and functional. The Malabary interior designers have created good kitchen interiors in Cochin. Renovate your old and creepy kitchen into a new and modular kitchen with the interior designs of Malabary interiors.
COUNTERTOP STORAGE
Countertop storage in your kitchen is not only meant for storage. It when covered nicely will act as a useful décor in the kitchen. You can save your utensils and other necessary items in the countertop storage for easy access and convenience. This is a must have one during a kitchen interior designing or a kitchen renovation. Similarly, there are many ideas from the Malabary interiors for your kitchen renovation.
Beautiful interior spaces, best kitchen interiors, best living spaces, Budget friendly interiors, Interior design ideas, interior designer in kochi, Interior designers, interior designers in Malappuram, interior designers in Nilambur, kitchen interior, modular kitchen