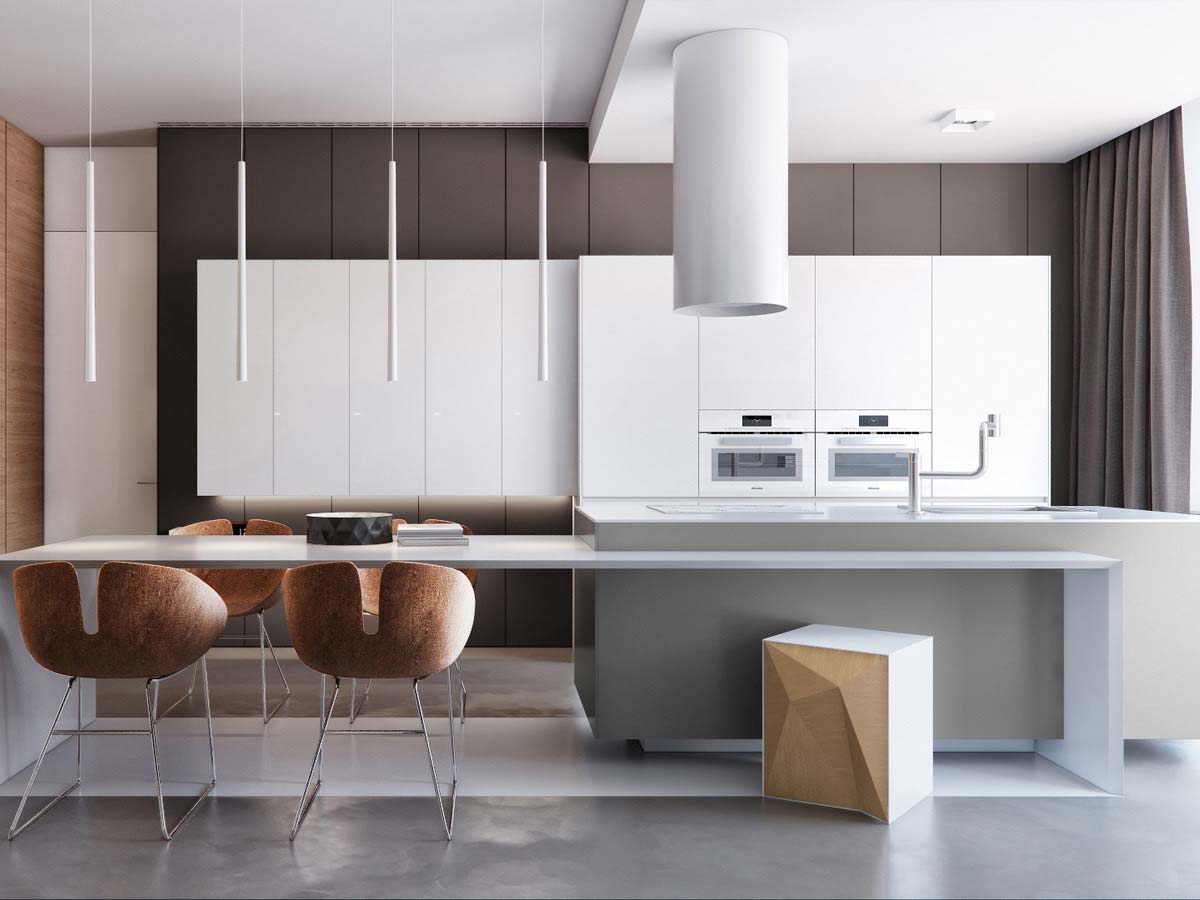 What about keeping a kitchen island in the center of your kitchen? This is not helpful when you have a small kitchen and you are spending a lot of space for giving a kitchen island in the center. The kitchen island can be placed in a number of ways. The Malabary interior designers always have a number of kitchen interior design ideas. Here we discuss a few such ideas to upgrade your kitchen to a new level.
OPT FOR A WORK TABLE OR BISTRO TABLE
You can create a custom kitchen island by using a work table or a bistro table which is with a slim and rectangular silhouette. There can also have a bottom shelf in it to improve the function of Kitchen Island.
CONTRASTING COLORS
As always colors play a major role in the interior spaces. This is mainly because it activates the visual sense and affects the mood of the people. You can add your favorite colors to it. The Malabary interior designers give different kinds of color combinations for the kitchen. The Malabary interior designers had designed several best modular kitchens in Kerala. The Malabary interiors are now the best modular kitchen designers in Kerala having a lot of satisfied clients throughout Kerala.
KEEP A DINING TABLE
If your kitchen is more spacious and you have more counter spaces for cooking and in the leftover spaces you can try something different. You can keep a dining table instead of keeping an island. While choosing the dining table, select something similar to get an added beauty.
AN EYE-CATCHING PENDANT
Hang an eye-catching pendant above the kitchen to light up your room. This is not only meant to light up your kitchen, but it should be attractive even without light and it must be eye-catching.
KEEP IT MULTI-MATERIAL
Other than giving a single patterned or single-colored material on the kitchen island, it will look better when combined with matching and suitable materials. You can use a tile to cover the side surfaces and a piece of marble to cover the top of the kitchen island. To this metal, accessories can give a stunning look. The Malabary interior designers do several unique interior designs with complete perfection. Malabary interiors are the best interior designers in Malappuram with a more number of satisfied clients.
ADDING A CASUAL TYPE OF EXTENSION
If your kitchen has an open floor plan, then design it to blend to have a more formal dining area and living space. Keep it simple to radiate that simple and peaceful glow. These kinds of the kitchen are rare in Kerala. Even though, some people prefer to have these kinds of kitchen. The Malabary interiors are there with you to hear your concept of interior designs and make it possible at its best.
OUTSIDE KITCHEN
This is not uncommon in Kerala. Some houses will have an outside kitchen along with an inside kitchen. This will give a transition from the casual kitchen to become a more entertaining one. These kinds of the kitchen are seen since olden time. The Malabary interiors give several good interior designs for the kitchen.
Budget friendly interiors, Home interiors, Interior design ideas, interior design tips, Interior designers