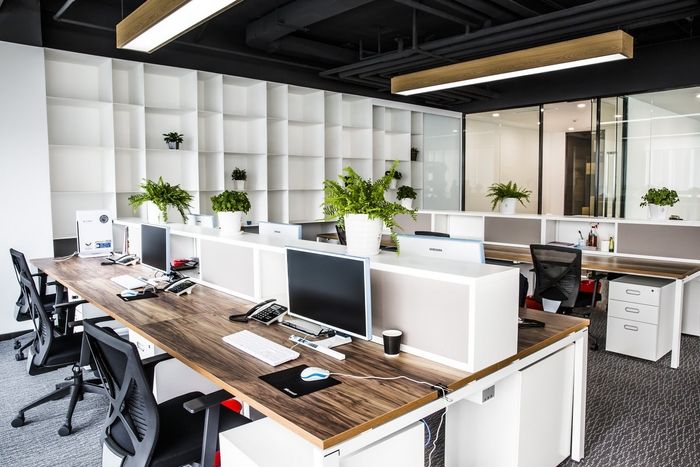 The office spaces must be designed more on a functional basis along with keeping it aesthetic. A creative outlet for the employees will bring out a more desirable result. Thus most of the companies prefer to do best interior designs for offices. The Malabary interior designers do office interior designs with better creativity. This made the offices to become more functional and successful. Interior designs from Malabary interiors are the reason for success of many companies. Some of the office interior design ideas using colors and patterns are discussed below:
SINGLE CONNECTED SPACE
By giving arches and symmetrical shapes, it acts as the primary design elements. Then suitable colors are worked on the basis of the particular theme into the interior design. The space which appeared to be large has to be changed to individual work zones by partial dividing. Privacy comes with these equally measured partitions. The partitions can also be done with done with different geometric shapes.
CREATE STRONG VISUAL IMPACT
This is a good idea to attract more employers and clients. Creating a strong visual impact on your office is made easy with the exciting interior designs of the Malabary interiors. We made it possible to have beautiful interior spaces for your offices. We are capable of creating strong visual impact for your office interiors which is suitable for your kind of business.
Giving colorful films and wall papers with different patterns like zebra pattern, or beautiful patterns can add charm to it. Adding suitable furniture and other decors are definitely an unavoidable option in case of office interiors.
LIGHT UP YOUR AMBIANCE
The presence of lights will even change the character of your room. The highlights in your office must be seen in lights. Otherwise it is of no use. An office with adorable and beautiful lights can improve the mood of the employees. This will also help you to give an attraction for your clients, thus improving the business.
Other than providing the lighting equipment just as the lighting options, it can be given as decors. There are several kinds of lights available in the markets, providing different colors and different patterns of lights. Including decorative lights to your office interiors are a great option. The Malabary interiors are capable of doing different and unique interior designs for your offices.
These are only few ideas from the Malabary interiors. There are more ideas suitable for offices. We do the interior designs according to your space and your kind of business. Before beginning the work we will provide you a 3D view of the proposed work. This will give you a better clarity to have you any changes in the interior designs. The qualities of works delivered by the Malabary interiors are at its best. Thus earned lots of satisfied customers throughout Kerala. The Malabary interiors are now the best interior designers in Kochi.
best interior design company, Interior design ideas, Interior designers, interior designers in kochi, office interior design, unique interior designs