July 19, 2021 | best friendly interior designers, Best home interiors, best interior designers, Best interior designs, Best Wardrobe designs, budget friendly interiors, home interior designs, homeofficeinteriors, interior design company, Interior design ideas, interior designs for houses, leading interior designing company, Living room interior designs | No Comments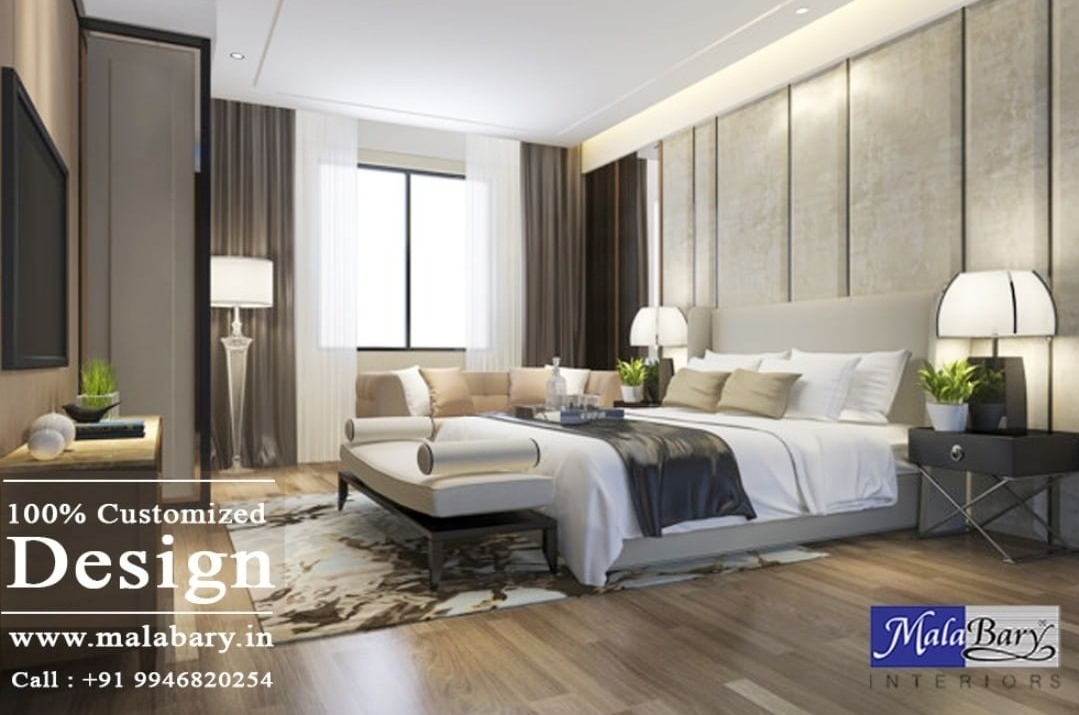 There are several kinds of wardrobe designs you can consider nowadays for your bedrooms. The designs of the wardrobe will be done based on the requirements, size, and type of the bedroom it is supposed to be placed in. In most houses, irrespective of the bedroom used, the wardrobes are more frequently used. Moreover, every bedroom in your house must have a wardrobe that is easy to access, offering ample storage space and it must blend with the overall interior design of your bedroom. The Malabary interiors are the best interior designers in Malappuram making your dream of owning stylish wardrobes like celebrities to come true.
Before you do the selection of wardrobes for any bedroom of your house you must narrow down your choices. The choices can be free-standing wardrobes or built-in wardrobes. The major advantage of a free-standing wardrobe is can be moved from one bedroom to other or even to a new home. In the case of built-in wardrobes, you can customize them in the best way to suit your bedrooms. You can personalize it in different terms like materials, size, colors, and accessories for matching your style and requirements. At times, choosing a wardrobe for your bedroom design can be challenging. Here are few things that you must consider.
What are the Materials and Finishes Suitable for your Wardrobes?
The materials and finishes are the most important things you must consider while choosing or designing a wardrobe. It is the best idea to design a sturdy wardrobe that can hold a lot of stuffs and look absolutely stunning. We consider using MDF (Medium Density Fireboard), HDF (High-Density Fireboard), or plywood. All these materials are strong, durable, and fit for your wardrobes.
The finishes can be chosen from different materials like laminates (matte and high gloss), veneers, acrylic, lacquered glass, or glass finishes. This can be chosen based on your taste and budget. However, you must consider that every bedroom has a specific purpose with it. The wardrobes must suit this. The Malabary interiors are giving the best solutions for all your interior needs and are the best interior designers in Palakkad.
Different Wardrobe Styles
There are many kinds of wardrobe styles and they are even further customized for different needs.
Wardrobe with drawers and bookshelf –These kinds of bedrooms are best suitable for medium or small apartments. It helps to combine the necessity of a bookshelf with the functionalities of a wardrobe to bring a clean and elegant look.
Sliding wardrobes –Sliding door wardrobes are especially suitable for small space or limited space apartments. There are various mechanisms like overlapping doors or in-line door mechanisms for sliding doors to fit in different budgets. They can be customized with a variety of finishes.
Shutter wardrobe with a study unit – With an emphasis on maximum storage, these wardrobes do not will nor have a frills design. This is the best suitable idea for your teenager's bedroom.
A walk-in wardrobe – This wardrobe design is reserved for large bedrooms. They are typically designed as part of the bedroom floor plan. The Malabary interiors are the best interior designers in Calicut to give beautiful interiors.
best interior design company, best interior design works in Kerala, best wardrobe designs, budget friendly interior designers in malappuram, home office interiors