October 18, 2021 | adorable interior designs, Best home interiors, Best Wardrobe designs, budget friendly interiors, home interior designs, interior design company, Interior design ideas, interior designs for houses, Kid's room interiors, leading interior designing company, Living room interior designs, luxurious home theatre space ideas, Minimalist interior designers in Kerala | No Comments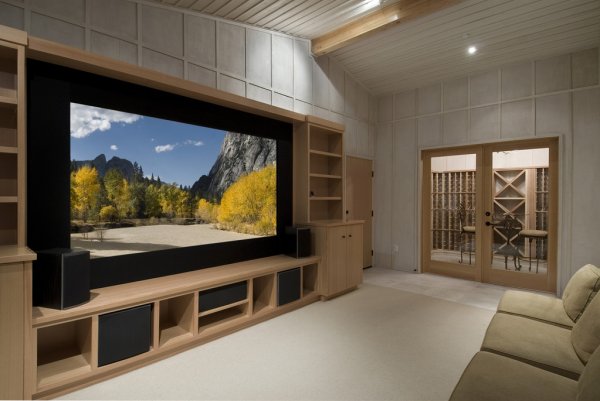 Going to the movies may not be comfortable always. You will find it difficult especially when you have kids. Moreover, many of the people are finding it better to enjoy films from the comfort of their home than going to Movies. Having home theatres in our houses means, we can optimize them for viewing parties. The designers at the Malabary interiors will help you create the cinematic viewing space of your dreams. The Malabary interiors are the best interior designers in  Thrissur to develop all sorts of interior spaces beautifully.
Creating Home Theatre in the Basement
The basement is a perfect location to design a home theatre as it is an isolated and dark space. This will give better sound performance and lighting easier to control. In the basement we can try adding a dark paint and install an extra-large flat screen. Then bring in seating with Movie Theatre seats that can work with modern spin and the ability to work in a variety of environments.
Review Sound Options
There is a lot to think while you design your sound system. You have to consider how many speakers you will need and also about the considerations of installing surround sound. There are some design choices that can impact the sound quality also. Things like the carpet will help contain the noise and prevent the echo. The Malabary interiors are the best interior designers in Malappuram to design perfect living spaces.
Try Alternate Locations
There are a plenty of spaces to consider a home theatre in your house. Transform a spare bedroom or a walk-in closet to a home theatre. In these kinds of areas the enclosed light minimizes the natural light. Few other options can be like pool house, garden shed and even an unused garage.
Optimize your Wiring
Getting your wiring in check is another important step. You will need the right kind of wiring for lighting, sound and your projector. Moreover, you will want to keep equipment out of sight and have to hide your wires with discreet tubing. Similarly, if your home doesn't have space for cinema style seating you can try replicating a conversation pit like this.
Think About Layout
Once you had worked out all the technical elements, you can now think about the layout. You can go for seating that give real cinematic effects, but with a sophisticated spin.
Make it Kid Friendly
Last but not least you can decorate your home theater. This can be done by considering a theme, make it sophisticated or feature a repeating motif. You media room can also be a playroom and here you can add dark wallpapers. The dark wallpapers will absorb light during the viewing parties. The Malabary interiors have a skilled team to create all kinds of interior designs and are the best interior designers in Calicut.
adorable interior designs, best home interiors, best wardrobe designs, Budget friendly interiors, home interior designers in calicut, interior design company, Interior design ideas, interior designs for houses, kids room interiors, leading interior designer company, luxurious home theatre space ideas, minimalist interior designers in Kerala